The High Peak Orchestra was founded in 1975 as The Co-operative Orchestra. We have always been based in Whaley Bridge, although membership is drawn from a wide area, including Greater Manchester and Cheshire.
The Orchestra is noted for its friendly and welcoming atmosphere. We rehearse on Monday evenings at the Mechanics Institute in Whaley Bridge.
We are always pleased to be given opportunities to perform for charitable organizations and glad to hear of new concert venues in the area.
Membership
The High Peak Orchestra is always keen to hear from instrumentalists who would like to play with them.
We have immediate vacancies for some string players and would also like to hear from interested players of other instruments as vacancies may occur at any time.
Conductor
 Andrew Hodkinson was born in London some time ago, and studied at the Royal College of Music as joint viola and piano student.  Whist a student he played for the Festival Ballet and Royal Philharmonic Orchestra, and after gaining a graduate diploma or two, went on to qualify as a teacher at Bretton Hall College of Education.  He auditioned for two professional orchestras and was offered a place in the BBC Training Orchestra which he turned down, and a place in the Johannesburg Symphony Orchestra which he talked himself out of owing to a difference of opinion about apartheid.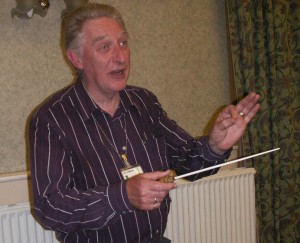 Teaching was meant to be a stop-gap whilst practice and auditions were prepared, but two factors changed this.  One was a pathological dislike of conductors (other than himself), and the fact that he enjoyed working with youngsters!  Having had conducting lessons with John Russell and Sir Adrian Boult he tried his hand on the amateur scene and enjoyed it.  Choral groups and orchestras all suffered equally, and the playing was kept up, around the midlands mainly, in various ensembles.  There was a short trip to Iceland in the Symphony Orchestra but after six months he returned to the UK.
Teaching, playing and conducting followed until the present day, when with retirement from his full-time teaching he now has more time for the other activities.