The High Peak Orchestra was founded in 1975 as The Co-operative Orchestra. We have always been based in Whaley Bridge, although membership is drawn from a wide area, including Greater Manchester and Cheshire.
The Orchestra is noted for its friendly and welcoming atmosphere. We rehearse on Monday evenings at the Mechanics Institute in Whaley Bridge.
We are always pleased to be given opportunities to perform for charitable organizations and glad to hear of new concert venues in the area.
Membership
The High Peak Orchestra is always keen to hear from instrumentalists who would like to play with them.
We have immediate vacancies for some string players and would also like to hear from interested players of other instruments as vacancies may occur at any time.
Conductor
David Chatwin
David was Principal Bassoon at the BBC Philharmonic for 44 years from 1972 until 2016, working with many of the greatest conductors and soloists of our times.  His playing career has included at least 50 foreign tours, 250 CD's and over 40 sessions at the Royal Albert Hall Proms.
He had the honour of representing the BBC Philharmonic in a World Chamber Orchestra with players from the Berlin, Vienna, New York and London Philharmonic Orchestras, amongst others.  As well as studying the bassoon at the Royal College of Music, he studied conducting with Harvey Phillips and Vernon Handley and attended courses with Sir Adrian Boult and George Hurst.
During his time in London, David conducted orchestras in Chelsea and Kensington and in 1970 initiated the first performance of Sir Arnold Bax's earliest surviving work, Cathleen Ni Hoolihan; more recently, he has premiered five works by living composers.  David has conducted the BBC Philharmonic Wind Ensemble and coached several youth orchestras, including the National Youth Orchestra of Great Britain and the Queensland Youth Orchestra.  He has been associated with the Chester Philharmonic since 1991 and became Principal Conductor and Artistic Advisor in 2002.
In addition, he has conducted orchestras in Birmingham, Oldham, Sheffield, Blackburn, Kendal and York.  In 1978, David joined the teaching staff at the Royal College of Music, where he continues to be involved with ensemble work and individual bassoon tuition.  Many of his pupils now enjoy successful careers of their own.
David lives with bis wife, Rachel, in their converted Methodist Chapel in the Peak District.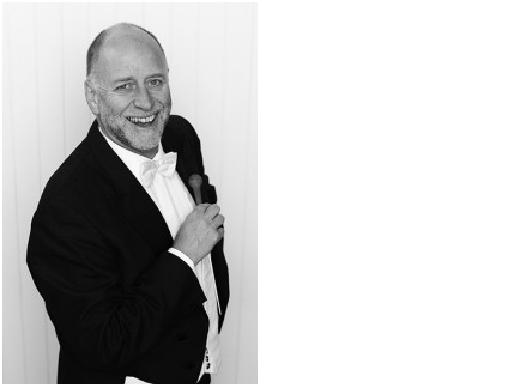 Patrick Gundry-White
After studying French horn, composition and conducting at London's Royal Academy of
Music, Patrick conducted concerts at the Thaxted Festival Orchestra and the Holborn
Chamber Orchestra, as well as freelancing on the London music scene. He then joined a
contemporary folk group called Kitsyke Will (yes, playing folk music on the French
horn!). The trio performed original compositions and arrangements of folk tunes, giving
broadcasts up and down the country, touring the UK and Europe and made an album
("The Devil's Ride") in 1982. Next Patrick explored improvisation in various jazz
ensembles, recording for radio 3 with Mike Mower's 13-piece contemporary jazz
ensemble "Hiatus" which he also composed for.
He then took off in another direction, training to be a teacher of the Alexander
Technique, qualifying in 1990.
Shortly after that he moved to the High Peak and began working with musicians of all
levels, working with members of the Halle Orchestra, BBC Philharmonic, students at the
Royal Northern College of Music and with the Halle's current music director Sir Mark
Elder. He has also worked with younger conductors, many of whom are now well
established on the European music scene. Since 2014 Patrick has been a member of staff
at Chetham's school of Music in Manchester.
A regular conductor of the HPO since 2016, Patrick is also to be found at the back of the
orchestra leading it's horn section and has played in many other local orchestras. He is a
keen chamber musician, a member of the Marsyas Wind quintet and a founder member of
the conductorless Musica Nova chamber orchestra.
In 2001 the High Peak Orchestra gave the world premiere of his orchestral work;
"Escaping Processions", which was completed under the shadow of 9/11. The orchestra
gave a very successful second revised performance of the work 20 years later.
In 2009 Patrick formed Whaley Choir, for which he composes original works and makes
arrangements across a wide range of styles. They have gained a formidable reputation for
exciting, adventurous programming and their performances have been greeted with much
enthusiastic acclaim.
He lives in Whaley Bridge with his wife, Dale who plays in the Halle, and two rather
demanding cats. He has also become rather adept at baking sourdough bread which he
started in lockdown.