In 2011 Anya completed her Master's degree in violin performance with distinction.  She studied at the Royal Northern College of Music with Professor Yair Kless.  She also completed her Post-Graduate Diploma (with Distinction) at RNCM with Professor Kless.  She studied with the assistance of the AYO Dorothy Fraser Award, Musicians' Benevolent Fund scholarship and she was the recipient of the prestigious international postgraduate scholarship from the Associated Board of the Royal Schools of Music.  She completed her B. Mus (Performance) at the Sydney Conservatorium in June 2007 and was a two time recipient of the Frank Hammond scholarship while there.  She studied with Wanda Wilkomirska and Philippa Paige in Sydney.  She was awarded her L Mus A at the age of 15.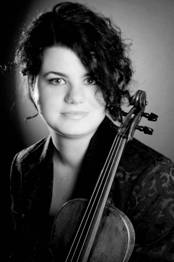 In 2011 Anya was the runner up in the inaugural Mathew Krel Memorial competition.  In June 2009 Anya was the winner of the RNCM Gold Medal, the College's highest honour for performance.  Earlier in 2009 Anya won the Norman George Kreisler Violin Prize.  Anya won the Australian Concerto Competition in 2006 playing the Shostakovich Violin Concerto.  She is a multiple prize-winner at the Performing Arts Challenge in Sydney and a previous recipient of the Marcus Edwards Violin Prize.  In December 2003, sponsored by SBS, Anya was a finalist and awarded a diploma in her first international violin competition, playing the Prokofiev Violin Concerto No 1, in Moscow.
In December 2010 Anya performed the Bartok No 2 Concerto as soloist with the RNCM Symphony Orchestra to great critical acclaim.  She has also recently performed the Lou Harrison concerto and Prokofiev Concerto No 2 to audiences in Manchester.  She was a recitalist at the Montepulciano Music Festival in July 2009, with the Nottingham Musical Society in 2010, at the Salzburg and Gniezno Festivals in 2011 and at Chaux-de-Fonds in August 2011.  Other public engagements include performances of violin concertos by Shostakovich, Tchaikovsky, Mendelsohn, Beethoven, Brahms and Prokofiev, solo works by Sarasate, Ysaye and Paganini and the Dvorak Violin Concerto to audiences in Prague, Budapest and Bratislava.
Anya is currently a member of the first violin section with the Hallé Orchestra.