Recently hailed as "a charismatic performer of sensitivity and panache", musician Ben Lathbury began playing the piano aged 6.  Born to a musical family in the Midlands in 1988, he was encouraged to take part in as many musical events and activities as possible, leading to an award for 'Outstanding Achievement & Contribution in Music' in 2004, First prize in the Opera Class of the 2005 Burton Competitive Vocal Festival and First prize in the Mozart Players Class at the Derby Arts Festival in 2006.  That same year, Ben moved from the Midlands to West Sussex to study for an undergraduate degree in Music at the University of Chichester, where he established himself as a pianist of note, winning second prize in Funtington Music Group's coveted 'Robert Headley Award' competition in 2008 and making his début as a soloist in Chichester Cathedral as part of the University's gala concert.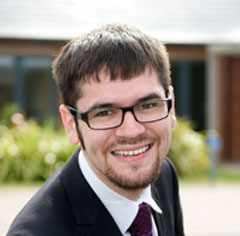 In 2009, after gaining a First class dissertation mark for his performance of Mozart's D minor Piano Concerto and winning the 'Robert Headley Scholarship Bursary for Higher Education' to fund his Master's degree in Music Performance, Ben went on to become runner-up of the first Clifford Benson piano competition at the University of Chichester and made his orchestral début with the 'High Peak Orchestra' in Buxton in December.  Since then, Ben has gone on to win the second Clifford Benson piano competition and regularly performs as both soloist and accompanist.  His most notable performances include engagements with the Chesterfield Symphony Orchestra (Anderson: Concerto in C) and High Peak Orchestra (Mozart: Concerto No.20 in D minor), as well as at Chichester Cathedral, Leconfield Hall in Petworth, Lordington Park House, Bognor Regis Music Club, Pallant House Gallery in Chichester during the first series of 'Piano Proms'  and the Guildford arts festival 'Guilfest'.
After completing his fourth year at the University of Chichester and receiving his Master's degree in Music Performance, having majored in Classical Piano under the tutelage of the Head of Keyboard, Jonathan Plowright, Ben worked for a time as a concert pianist, piano teacher, vocal coach and choral conductor.  In 2010 he was appointed as Director of Music & Master of the Choristers at St. Margaret's Church in Ifield and since 2013, he has been acting Head of Music at ChichesterFreeSchool.  Outside of his musical life, Ben lives in Chichester, West Sussex with his cat Persephone and enjoys performing magic, playing golf, chess and pool, swimming, driving and reading.