Ben began playing the clarinet at the age of 10, quickly becoming involved with local orchestras in Salisbury where he grew up, and eventually with the Wiltshire County Youth Orchestra.  He went on to study music at the University of Leeds, spending a year of his course in Weimar, Germany, at the Franz Liszt Hochschule für Musik.  He then completed a Masters in performance at the RNCM in Manchester, studying with Lynsey Marsh and Linda Merrick.  As a member of the Rivendell Quintet, formed at the RNCM he performed at various venues in the North West and further afield, including the Tunnel Trust course in Perthshire.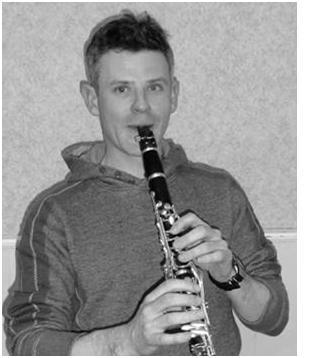 Now living in Macclesfield, Ben spends much of his working week with young musicians in Cheshire and Derbyshire schools
Originally drafted in to play the bass clarinet for the High Peak Orchestra, Ben is delighted to have the opportunity to perform as soloist for Weber's 1st Clarinet Concerto.  When not teaching or playing, Ben still finds time for the occasional cycle ride and is perpetually entertained by his 10 month old son's efforts to play the xylophone along with many other tricks.