Dewi Tudor Jones studied music at the University of Manchester and the Royal Northern College of Music with Peter Cropper, Julia Hanson and Wen Zhou Li.  He graduated in 2007 with a first class degree and a Master's degree and was awarded the Hargreaves Recital Prize.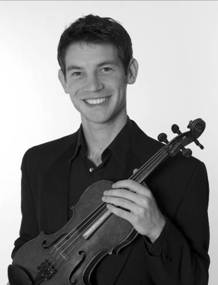 He now works in and aroundManchester, the North of England and Wales with orchestras including Northern Sinfonia, Manchester Camerata, the Hallé, Opera North, Sinfonia Cymru, Amaretti Chamber Orchestra and has led the Mid Wales Chamber Orchestra.  As a soloist, he has recently performed the concertos of Bruch, Bach, Beethoven and the Brahms Double with various orchestras around the North West and he regularly gives recitals with various chamber ensembles.
Away from the violin, when theManchesterrain holds off for long enough, he enjoys getting out on the grass for a game of tennis.