Steven Wilkie.  Now one of the country's leading violinists, Steven Wilkie was a prize-winning student of Yossi Zivoni at the RNCM.  He has played with most of the UK's orchestras and his concerto appearances include the Bach Double (with Yossi Zivoni), Mendelssohn, Bruch, Dvorak, Beethoven and Prokofiev.  In 2004 he made his European concerto debut in Lucerne.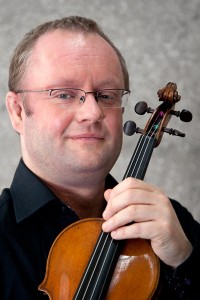 Steven is much in demand as an orchestral leader and has worked with conductors including George Hurst, Sir Edward Downes and Christopher Warren Green.  He is also a member of The John Wilson Orchestra with whom he is often to be heard on radio, television and cinema.  An active chamber musician, Steven has performed in recitals throughout the country and also served as adjudicator for BBC's Young Musician of the Year programme.
Steven is an examiner for the ABRSM. He plays a Nicolai Gagliano violin dated 1765.